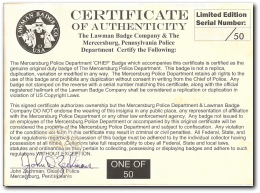 Dravosburg, PA was incorporated in 1903 with it's first order of business to hire a policeman, purchase a revolver, two pair of handcuffs and build a lockup. Situated on the banks of the Monongahela river (named by Delaware Indians), Dravosburg was a booming town of coal mines, lumber mills, and shipbuilding.
Records dating back to 1769 indicate the area to be granted to John Gray by William Penn's two sons, John and Thomas. The first steamship "New Orleans" was launched in the area in 1811. The steamship heritage of Dravosburg connects to the Ohio and Mississippi rivers branching out to reach industralized America.
► Edition size of 300. Limited Quantities Available
► Badge Size 2.5 x 3.5
► Beautiful two tone (silver & bronze) badge
► Custom die center piece in antique bronze on silver badge
► Dark blue enamel (cloisonne) lettering
► Hallmarked
► Certificate of authenticity
► LIMITED EDITION
► Each badge is serial numbered on reverse
Guaranteed Authentic and Authorized for Collectors
Every 'Collector Badge' product is an authentic duty badge. Each and every badge is one hundred percent Department issued equipment. Law enforcement badges including, Marshal Badges, Constable Badges, Police Badges and Sheriff Badges are all available. All badges offered to collectors are legitimate issue duty badges (in very small limited edition) accompanied by a certificate of authenticity and written Department Permission to possess the badge. This is a rare and unique offering only available from the Lawman Badge Company and the sponsoring law enforcement agencies.
Every 'Collector Badge' certificate of authenticity is hand signed by the head of the issuing agency. This certificate is your guarantee from the law enforcement agency that the badge is legitimate Department Issue. It also gives you the valuable signed written permission necessary to possess the badge you purchase. Every badge is done in very small limited edition only and serial numbered. Specific restrictions and conditions may be set by the Department Heads which are printed on the Certificates of authenticity granted by the Agency. The hand signed original certificate (no copying allowed) authorizes the badge collector to own and retain the Department Badge in their collection.
All State, Federal, and Local laws or ordinances pertaining to possession of law enforcement badges must be adhered to by each individual collector/purchaser. None of the collectible badges offered here are counterfeit or replicas. Each badge is genuine and delivered only with the express written permission and authorization of the issuing Department. Anyone purchasing a collector badge offered in limited edition needs to read the Federal Security Act of 2000 printed at the bottom of this page.
This is a rare opportunity to own a limited edition collector badge
Don't miss out on this rare offer and opportunity to add a very high quality Department issue (Original Equipment) badge to your collection. All badges come with documentation from the agency itself. Get them while they last .