Professional Police, Sheriffs, Highway Patrol, Private Security, Fire and Military are having their demands met and exceeded by the Lawman Badge Company every day. Today's law enforcement professionals are not satisfied with just any badge or challenge coin. They recognize that the badge symbolizes who they are, their mission, and dedication. We couldn't possibly agree more.
There is nothing that speaks louder than the voice of a satisfied customer and a satisfied customer is also your very best brand ambassador. So in the context of this, we would like to share with you some of the comments made about our badges by just a few of our satisfied police chiefs, detectives, fire chiefs and badge collectors. These testimonials are completely unsolicited and are displayed with the clients exclusive permission to do so.
---

DETECTIVE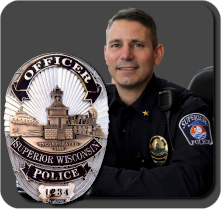 Hello Diane,
I haven't had any dialog with you since, "The Captain" took over.... I just wanted to say thank you and congratulate Lawman Badge for the excellent work they did on our custom badge. I along with everyone here at SPD are very impressed with the job you guys did. What a beautiful product... Our department is proud to have it's own unique style badge, created with the historical significance this area is known for.
Thanks again,
Kirk A. Hill Superior Police Department Detective Bureau Superior, WI
---
VESSEL SECURITY OFFICER

Hello Diane,
Thought you may want to see a picture of all 15 of the cruise line security crew, we've just swapped over to the new uniform and the new badges look superb. We've had so many accolades from guests and fellow crew, it really makes a difference.
Thanks again for all your help with this project.
Best regards,
Tim Gregory Vessel Security Officer MS Norwegian Jewel
---

US ARMY MILITARY POLICE
First and foremost , I would like to say thank you to Gary and Diane for your awesome support of us soldiers fighting the war on terror here in IRAQ.
The badges we ordered are for a soldier who has given the ultimate sacrifice for his country. Thank you so much for your help.
Serving Proudly Michael Nussbaum US ARMY Military Police Corp
---
US DEPARTMENT OF THE NAVY


Diane and Gary,
GREAT BADGE !
I am a Department of Defense/Department of Navy Police Officer and badge collector stationed in Hawaii. I just received the Naval Police, Iraqi Freedom commemorative badge that I ordered. I am very impressed with the badge, it is a true work of art. I was so impressed that I ordered two Master at Arms badges, one for a MA friend and one for my collection. You can be very proud of your product as they are high quality pieces of art. Thanks for a badge I can be proud to carry.
Ofc. Rick Mautz Department of Defense/Department of Navy Police Officer
---

COLLECTOR

Hello Diane,
Wow Once again I am really impressed with all the Badges. I want to extend a special thank you to you and the Owner of Lawmen Badge company for including the two challenge coins with the 6 badges. The Marine corps and Peace Officer challenge coin will not only be treasured, but I will also mount them inside my locking display case with my Badges for all my visitors to view.
Please tell your Silver smiths they are true artist. Now on to the Kitty Hawk Badge. The Chief of Police Kitty Hawk badge looks more amazing in person then on the post card that you e-mailed me.

Texas Ranger style 2 is so stunningly beautiful and a real work of art to look at. I am so anxious and excited to receive my Texas Ranger style 1 that is on back order. I know in the future I will be ordering a few more of the Texas Ranger Badges Just so that I will have a few extras in my collection.

The Train on the East Syracuse Police badge is so beautifully done that it looks like a 3d painting, the artist done a really nice Job and the badge is fun to look at. The Deputy Sheriff Big Horn County Badge is proof that the photos on your web sight hides there true beauty and does your badges a injustice. Only in person will someone be able to see the true craftsmanship and beauty of the Deputy Sheriff badge. The Kearney Police Badge is a masterpiece in my opinion!
I have never seen a Badge anywhere that looks more like something that should be in a museum, your Silver Smiths really created a work of art with this badge that brings honor and pride to our men and women in Law enforcement. Some times taking a leap of faith to build trust is needed. And that's what I did here. Thank you for all your help I will be placing another large order in the near future.
Sincerely, Duane Ret. U.S. Marine
---
LAW OFFICIAL


I received the SOUTHERN LAWMEN MC custom badge today. To sum it up in one word, "BEAUTIFUL"! I could not be more pleased with the finished product. Awesome!!! This badge is definitely high quality and I know the other members of the association will be very anxious to get theirs after seeing mine! Thanks for all of your help Diane. You've been great!
E. Stewart National President SLMC www.southernlawmen.com
---

CAPTAIN / FIREFIGHTER

Hello Diane and Gary,
I have worked at the City, and County firefighter level during my 25 year career. Your badge is far and away superior to any craftsmanship we have seen.
I am really impressed and that is not an easy thing for me to be.
Captain Bill Gilbert
---

COLLECTOR / LAW ENFORCEMENT

I am a member of County Law Enforcement and have my share of badges. My son and I were working on a custom design. We finally thought we had exactly what we wanted, but after we ordered we came up with changes. We must have called and e-mailed Diane at least a dozen times with what we wanted added or deleted. Diane not only put up with us, she worked with us every step of the way. She made nothing but positive comments and suggestions and made our order feel personal.
The support was awesome! Diane is truly a wonderful person to work with. Any person who can make you feel like your order is the most important is an A+ person in my book. We finally received the finished product. The badge we ordered is very impressive and one of the finest I have ever seen. Diane Ellis and the ENTIRE Lawman Badge staff deserve praise and credit for the outstanding job they do. They are a credit to their profession. My son and I have ordered two additional badges since and are going on our third, but we are not going to stop there. We would strongly recommend this company to any collector or large scale department order. Thank you Diane!
Sincerely, Kyle and John Holewinski Oshkosh, Wisconsin
---

WESTERN REENACTOR
Hello Diane!

Received the badge and it is WONDERFUL! Everyone I have shown it to thinks it is GREAT! Thank you for the fast shipping and your attention to detail. I will send you a photograph of me in my "costume" as soon as I get a good one.
If you have a "customer comments" area where I can post a comment, please let me know and I would be happy to write a few words to help future customers realize the high quality of your work! Again, my thanks, it is PERFECT!
Regards, Blake aka Milt Yarberry
---
LAW ENFORCEMENT


Hello Diane,
Just received my new badge over this last weekend. I am impressed with the quality of this badge and I have received several admiring remarks about the badge as I go about my duties.
Great Job, I am a very satisfied customer.
F. STEVENS HOLMAN Rains County Constable Emory, Texas
---

DETECTIVE

I find it hard to articulate how pleased Dr. Ranish and I are with our stars. You've outdone yourself , it is an honor to own such a masterpiece.
Thank you, Lou Tacero, Detective
---
POLICE CHIEF


I received the Cinco Peso Badge you made for me and I am so impressed with it !!!!!!!! It is without a doubt the finest badge I have ever seen during my 41 years of law enforcement! The worksmanship and craftsmanship that Lawman Badge Company employed in the creation of this badge, that involved taking a five peso Mexican coin and making a Texas badge from it is outstanding! Other customers should know this...... when Lawman Badge Company claims to make "jewelry quality badges", this is an absolutely true statement of fact, and this badge is truly a work of the jewelers art in every respect. Thank you from a person who will be a lifetime customer.
God bless you, and respects from Police Chief J.L. Bowden - Texas