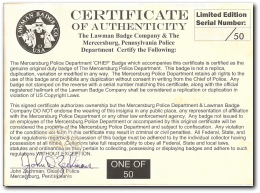 Did Lincoln assassin John Wilkes Booth spend the last years of his life hiding out in a house in northeast Mississippi? Did Thomas Edison visit the area to promote the use of his improved telegraph machine, and did Jesse James use the local hotel as a hideout before robbing a nearby bank? These are just a few of the historical mysteries surrounding the community of Guntown.
Letters and other historical documents still exist to support both arguments, but no matter which is true, it is certain that the name of Guntown was well-known during the Civil War. The town's location on a major road just north of Tupelo made it an important strategic location, and troops from both sides often rode through the streets.
Guntown, MS is a small historic Southern town located in Northern Lee County just North of Tupelo, MS.
► These are authentic Department issue badges
► Badges measure 3 inch high x 2.5 inches wide
► Limited edition "Police Officer" badges of only 200 pieces
► Two tone design in shiny gold finish on a bronze base
► Hallmarked with our Lawman logo on reverse
► Serial numbered on the reverse
► Standard safety catch on reverse
► Certificate of Authenticity Signed by Chief Michael Hall w/each badge
Guaranteed Authentic and Authorized for Collectors
Every 'Collector Badge' product is an authentic duty badge. Each and every badge is one hundred percent Department issued equipment. Law enforcement badges including, Marshal Badges, Constable Badges, Police Badges and Sheriff Badges are all available. All badges offered to collectors are legitimate issue duty badges (in very small limited edition) accompanied by a certificate of authenticity and written Department Permission to possess the badge. This is a rare and unique offering only available from the Lawman Badge Company and the sponsoring law enforcement agencies.
COA202Every 'Collector Badge' certificate of authenticity is hand signed by the head of the issuing agency. This certificate is your guarantee from the law enforcement agency that the badge is legitimate Department Issue. It also gives you the valuable signed written permission necessary to possess the badge you purchase. Every badge is done in very small limited edition only and serial numbered. Specific restrictions and conditions may be set by the Department Heads which are printed on the Certificates of authenticity granted by the Agency. The hand signed original certificate (no copying allowed) authorizes the badge collector to own and retain the Department Badge in their collection.
All State, Federal, and Local laws or ordinances pertaining to possession of law enforcement badges must be adhered to by each individual collector/purchaser. None of the collectible badges offered here are counterfeit or replicas. Each badge is genuine and delivered only with the express written permission and authorization of the issuing Department. Anyone purchasing a collector badge offered in limited edition needs to read the Federal Security Act of 2000 printed at the bottom of this page.
This is a rare opportunity to own one or all of the limited edition Collector Badges
Don't miss out on this rare offer and opportunity to add a very high quality Department issue (Original Equipment) badge to your collection. All badges come with documentation from the agency itself. Get them while they last.